A review of key materials cell and pack design as it relates to applying ECCAP technology to automotive and related applications.

The ECCAP Symposia provided a keen balance between:
discussing the latest in cell performance and pack application in stationary and automotive installations and
assessing the most recent progress in the development of underlining materials and cell designs that will enhance the marketability of ECCAPs.
If you missed ECCAP, you can order copies of the Proceedings.
Highlights from ECCAP 2009
Long Beach, California, June 2009

John Miller, JME Inc., chaired the ECCAP Symposium.
Frederic Tertrais of BatScap, Mike Everett of Maxwell Technologies and Toshihiko Furukawa, Nippon Chemi-Con, take EC capacitor performance questions.
Grant Norton, from GoNano Technologies, spoke on surface engineered ultracapacitors.

LS Mtron and Maxwell, engaging prospective customers during an exhibit reception.

Highlights from UCAP 2008
Tampa, Florida, May 2008

Adrian Shneuwly, Maxwell Technologies
John Miller, JME Inc., UCAP Conference Chair
Menahem Anderman, Conference Chair
Paul Armiroli from Valeo explains the use of ultracapacitors in European mild-hybrids
UCAP Session 3 - Ultracapacitor Pack Design and Performance in Key Applications Q&A
Frédéric Tertrais, BatScap Bolloré
Paul Armiroli, Valeo Electrical Systems
Adrian Shneuwly, Maxwell Technologies
Uday Deshpande, Maxwell Technologies
Toshihiko Furukawa, Nippon Chemi-Con Group

Highlights from UCAP 2007
Long Beach, May 2007

SESSION 3:
John Miller, Maxwell Technologies presents
Session 2 of UCAP:
James Barnes, US Department of Energy
Nancy Clark, Sandia National Laboratories
Andy Burke, University of California Davis

Highlights from UCAP 2006
Baltimore, May 2006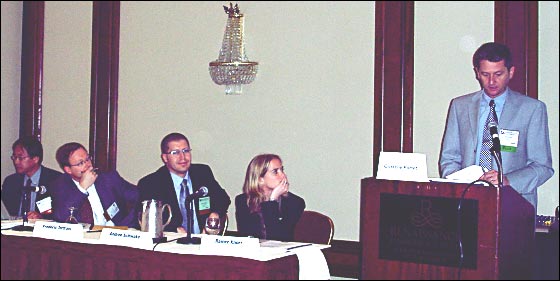 SESSION 1 - New Advances in Materials and Cell Design of Symmetric EDLC
Panel Speakers
Toshihiko Furukawa, Project Manager, Nippon Chemi-Con
Frederic Tertrais, Activity Manager Supercapacitors, BATSCAP
Andree Schwake, Head of Ultracapacitor Development Department, EPCOS
Cristelle Portet, Toulouse University
Rainer Knorr, Project Leader, Siemens VDO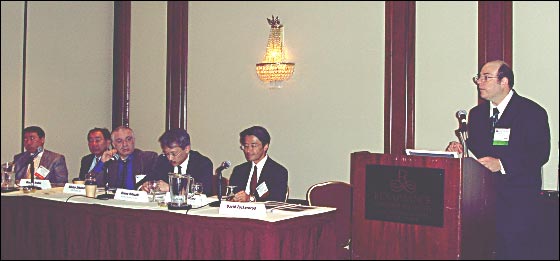 SESSION 3 - Progress with Hybrid UCAPs
Panel Speakers
Osamu Hatozaki, Subaru Technical Research Center
Masaki Yoshio, Professor of Applied Chemistry, Saga University
Nikolay Shkolnik, Professor of Applied Chemistry, Gen3 Partners
Whan Jin Roh, Enerland
Jun Furukawa, Manager, R&D Division, Furukawa Battery Co.
David Zuckerbrod, Senior Electrochemist, W. L. Gore